I spend a lot of time talking about scheduling social media posts during my 
Content Marketing
&
Social Media training
sessions and it's been a huge help to me personally as I like to keep my main social media channels reasonably busy.
In this article, I'm going to show you how to schedule your posts in a few different ways using my favourite social media management tool, Zoho Social.
Why should you schedule social media posts?
The most obvious answer is that it saves you time in the long run but there's a lot more to it than that.
It keeps you consistent
Consistency is more important than quantity when it comes to social media. It's much better to have 6 posts going out every day on Twitter than having one massive 20 post-session in an hour, then nothing for a week.
Being able to schedule some of your posts means you can spread things out a little, not everything has to be posted now or when you remember to post. It can be spread out over a few days, weeks or months.
It makes you think about what you're posting
When you build a social media schedule you're setting aside time to actually create something. You're not posting on the fly, you're writing, editing and drafting your posts.
If you want to change an image, edit some text then you have the time to do this and really think about what you're posting.
I tend to revisit a lot of my schedules and edit sentences, change the odd image or add an emoji 👍. You have less time to think when you only post live.
It makes the mundane easier to live with
Imagine your company runs multiple events and you post the same messages during every event and you do this live, eventually, you're going to become a little braindead and make mistakes.
Creating a social media schedule for all those essential posts that go out at the same time can reduce headaches and mistakes.
Need some help?
Social Media For Business Training – Online or In House
What types of posts should you schedule?
There are certain types of posts that are perfect for scheduling and these can make up the bulk of your content.
Your own blog posts
Make a list of all the posts on your blog that are Evergreen or will last a long time. These are the types of blog posts you can schedule and regurgitate over and over again.
I have a list of around 40 and one gets pushed out every day. Once the schedule is finished I start from the beginning again.
Curated content or other peoples blog posts
Sharing content from influencer blogs or the mainstream press can be a good way to keep your audience engaged but you don't want to post everything at once.
Set aside a small amount of time once a week to look for interesting content and then schedule one a day.
Generic broadcast messages
These are the boring information messages that need to go out time and time again.
Imagine you're a bricks and mortar store and open late till 8 pm every Thursday. You can schedule messages way into the future reminding your followers about the late hours.
You may send out good morning and good evening messages and some of these can be scheduled in advance especially if you try and add a little humour to them.
Campaign posts
If you're pre-planning a marketing campaign you may want to schedule posts over its duration. Reinforce messages on social media when conventional adverts are running on TV or radio or make sure certain posts go out at certain times of the day.
Event posts
I mentioned events earlier and scheduling can really help free up time when you're at an expo or conference.
Set up schedules for speakers, competitions or demonstrations. If you're running a big event you could even schedule information messages about where to find food, drink or the facilities.
What posts should you NOT schedule?
There will always be types of posts that you really don't want to schedule, the last thing you want is to look silly!
Don't schedule engagement posts
Any time you reply or engage with one of your audience it should be done live. No matter how good you are at writing a scheduled reply will always look a bit off.
Social media is still social so when you chat with others keep it live.
Don't schedule 'of the moment' posts
These are the types of post that may occur in the spur of the moment.
An example would be someone spilling a coffee over a Mac Book Pro in the office. You may want to share a picture of the disaster with your audience but it will look weird if you say "look what just happened" and the clock on the desk says it happened three days ago!
Why use Zoho Social for scheduling?
There are many great tools available for scheduling your posts but for the last 12 months, I've been using Zoho Social. I moved from Hootsuite, which is an excellent tool, but sometimes found the interface to be a little clunky and certain things can take time, especially when adding images.
Zoho Social is a full-blown social media management tool that can be used by individuals, companies and marketing agencies to look after most of their channels in one place. It offers a number of different ways to schedule your posts including a very cool feature that schedules posts when your audience is most active. I'm going to run through all the different ways to schedule during this article.
Zoho Social works online so you can take it with you on any device. I travel a lot so use the system on my laptop, phone and my desktop in the office.
If you work in an agency and run channels for multiple brands then Zoho Social can really help. You can effortlessly switch between brands and dedicate the interface to just one client. This is huge as it reduces mistakes and embarrassment if you post something on the wrong brands channel.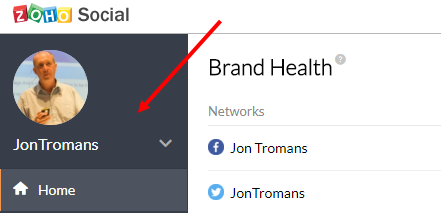 The cost of online tools is always important and I always felt that Hootsuite was just a little bit expensive. I used to pay for a pro account but always found then asking for more money for simple things like reports.
At the time of writing Zoho Social offers a simple pricing structure that covers individuals, freelancers, businesses and agencies.
I pay for the system within the very useful Zoho One offering where you get many, many apps all for one price per user.
Want To Learn More?
STRATEGY – PLANNING – COPYWRITING – TRACKING
All included in this online or in house training
Scheduling using the Post Composer
The easiest way to schedule a post in Zoho Social is to use the Post Composer box.
Click the 'New Post' button at the top right-hand corner of the 'Home' or 'Posts' page and a composer box appears with a calendar on the right-hand side.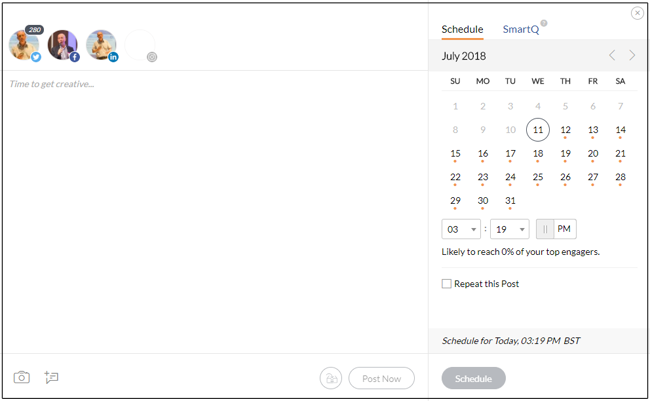 Select the social media networks you want to post on, write your post, add an image and then you're ready to schedule.
When you look at the calendar you'll see that some dates have a dot below them. This indicates that there are already posts scheduled for that day, you can hover over the date to see how many.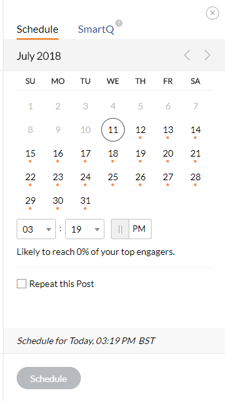 Click on the date you want and select the time the drop-down box.
Underneath the time box, you'll be able to get an idea on how many of you're engagers you're likely to reach. If it says 0% they try another time to see if you get a better result.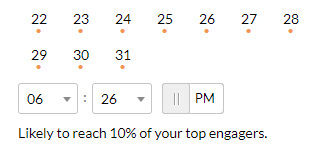 Repeating your posts
One very cool feature in Zoho Social is the ability to repeat your posts.
Earlier on in this article, we mentioned retail stores scheduling their late night opening posts. This is the way to do it.
You can repeat posts either weekly on one or more days of the week, or monthly on a certain day. You can also set a date when the repeat ends.
Create a post that you want to repeat using the Post Composer and select a date and time.
Then tick the box below the calendar that says 'Repeat this post'.
Select how you want to repeat to occur, add an end date which can be up to 4 months ahead.
Once you're happy click the schedule button.
The example below shows how you would schedule a repeat post for late night opening every Thursday.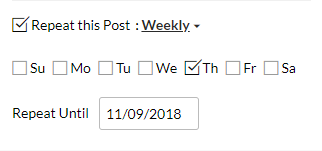 Schedule using the interactive calendar
Another way to schedule your posts is to use the interactive calendar which gives you an interactive overview of all your scheduled posts on all your networks.
Click on 'Posts' in the left menu and then 'Calendar' in the right-hand menu.
You'll see all your scheduled posts nicely laid out in a beautiful calendar.
You can filter the view for the calendar by clicking the filter icon at the top right-hand corner. This gives you the chance to view posts on just one network or to see posts that may have failed.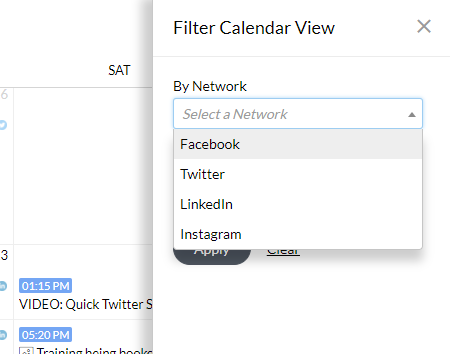 To schedule a post hover your mouse over a date and a little 'Create Post' icon appears at the bottom right hand corner of the date box. Click on it and the composer window appears with the date prefilled. Just follow the instructions above to schedule your post using the composer box.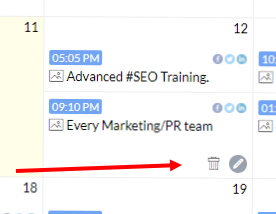 Deleting all posts from a day
If you want to delete all the posts from a certain day, hover your mouse over the day and then click the 'Trash' icon at the bottom right-hand corner of the day box.
Rescheduling posts and moving things around
One of the most powerful features of the calendar gives you the ability to drag and drop your posts around from day to day. This way you can balance things up a little. You may find one day is very heavy on posts and another is not, you can drag posts to the lighter day.
Using your mouse click and hold on one of the posts and then drag it to another day, let go and its rescheduled.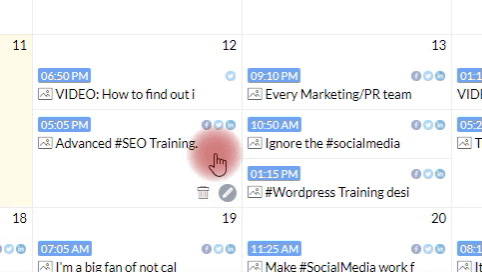 Looking for failed posts
Sometimes a post fails to go live. It may be that there's a temporary problem with the network involved. Zoho Social will let you see all failed posts in the calendar view, you'll also get an email which is useful.
Just look for the red date entries in the calendar. You can click on them and have an option to reschedule the post or send it out straight away. You can also drag the failed post to a new date.
Social Media Training For Business
STRATEGY – PLANNING – COPYWRITING – TRACKING
All included in this online or in house training
Schedule by uploading a spreadsheet
The final way to schedule your posts is to build a spreadsheet and upload it to Zoho Social. This is really useful when you're scheduling your own blog posts.
Open Microsoft Excel or whatever spreadsheet software you use and set things up as follows.
1st column – The date and time you want the post to go live
2nd Column – The text content of the post
3rd column – The link to include in the post (will be automatically shortened)
4th column – The link to an image on a public web server

1st column – date and time
Enter this in mm/dd/yyyy h:m format. This is the date and time you want the post to go live.
2nd column – text of the post
Write your post. Remember that if it's a Tweet you need to keep it below 280 characters or the upload will fail and you'll get an error.
3rd column – link to the article/blog post/website
If you want to include a link for people to click on then insert it in the 3rd column. Zoho Social will automatically shorten the URL when the post goes live.
4th column – link to the image
If you want your post to contain an image then put the public link to it here. The best place to store your image is on your website. If you use WordPress you can upload the image to the media directory and get the link from there.
Uploading and sharing images on Google Docs/DropBox/OneDrive or any other file sharing system won't work. It needs to be on a public web server.
Repeat for all your posts and then export the spreadsheet as a CSV file from your spreadsheet software.
Head over to Zoho Social and click the 'Posts' link in the left menu and then the 'Bulk Scheduler' link underneath the 'New Post' button.
Select the network(s) you want to schedule and upload.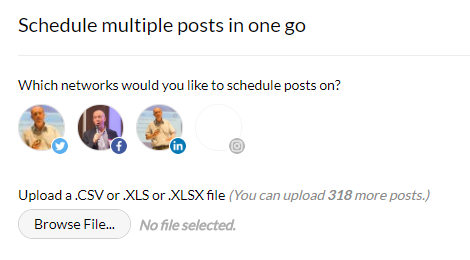 If there are no errors everything will be scheduled and you'll get a success message.
If there are errors Zoho Social will let you know and give you an option to download a copy of your CSV file with the problems included.
Fix the problems and try the upload again.
Conclusion
Scheduling your social media posts can help save time, keep you organised, help you write better content for your campaigns and keep your channels busy. But don't do too much of it.
The whole idea of social media is that it's social so make time for engagement and replying to your followers.
Don't forget what you've scheduled. I once spoke to a company who had scheduled a day's worth of social media around Micheal Jackson only to find out that morning he had died. They managed to cancel the campaign as it would have looked like they were profiting from tragedy.
Try out Zoho Social and see how you get on. The scheduling features are excellent and have never let me down. I find the interface and workflow really easy to manage.
Things I'd like to see in the future
It would be nice to be able to set up some sort of content bank within Zoho Social and add content to automatically repeating schedules. Imagine you could add every blog post and have it tagged onto the end of a schedule and then rerun that schedule without having to edit dates. This would be really useful.
I would also like to see some basic scheduling in the free plan. I work with a lot of freelancers and micro-businesses and they don't always have the budget for social media management software so being able to schedule 5 posts a month in the free plan would be nice.
Comments & Further Reading
If you have any thoughts or comments then leave them below. I'd love to hear what you think.
If you've enjoyed this article then check out:
How To Create A Simple Content Marketing Plan
20 tools to make managing social media EASY!