Zoho Social Training Course - Private In-House. London, Manchester, Birmingham, Cardiff & UK Wide.
Learn how to use Zoho Social to manage your social media efficiently & within your team.
Check Prices
Become an expert in Zoho Social and manage your social media with ease. Take the course online or in person.
This Zoho Social Training Course Includes:
– Downloads
– Lots of social media management advice.
– Post training support via email or short online sessions.
Designed for marketing execs, teams and agencies this one day Zoho Social training course will give you the confidence to manage your clients social media with ease.
The main focus of the training is to help you put a social media strategy in place, learn about the advanced posting features, listening & monitoring techniques and report success using the metrics that are important to you.
On top of the training you also get a plenty of downloads, post training email support and short online sessions if needed.
The session lasts between four and five hours and can be delivered one-to-one or to groups online or anywhere in the UK.
This 1 day training in Zoho Social includes:
Adding your brands social media accounts to Zoho Social
Learn how to set up brand accounts and add social media networks. An in depth look at organising your brands/clients and networks.
Working as a team & collaboration
Learn how to collaborate within your team. We'll take a look at the discussion system and how it can help your team.
Managing users and permissions
Discover how to add new users and create roles so you can manage your team effectively. We'll also take a look at how to monitor activity using the audit log.
The Dashboard & Interface
An in depth look at the dashboard and interface of Zoho Social. Learn where the functionality is and what information is instantly at hand.
Managing Your Connections
Learn how to view and manage your social connections. Learn how to add leads to Zoho CRM and add extra information like phone numbers and notes. We'll also look at how to quickly start a discussion on a connection.
The Media Library
Discover how to store frequently used images, videos and gif's and add them to your posts quickly. Learn how to pull in content from Google Drive, One Drive and other cloud storage apps.
RSS Feeds. Monitoring Blogs.
An in-depth look at how to monitor content from blogs and online newspapers/magazines. Discover new content to share with your audience.
Creating posts in Zoho Social
A long look at how to create posts using Zoho Social. We'll take an in depth look at the composer plus show you how to quickly create posts directly from web pages.
Scheduling Posts
Learn what to schedule and how to schedule it. We'll take an in depth look at the scheduling functions of Zoho Social including the interactive calendar, bulk scheduler and repeated posts function.
Smart & Custom Publishing Queues
Discover the power of SmartQ which lets you post when your audience is active. We'll also learn how to create a custom publishing queue for your brand.
Social Monitoring & Listening
What to monitor and how to monitor it. Listen to all your social media feeds in one place. Learn how to reply from the dashboard at create quick discussions with your team.
Advanced Listening & Competitor Monitoring
Learn how to set up searches, use Twitter lists and quickly turn posts into monitoring streams.
Managing Private & Direct Messages
Discover how to manage your Facebook private messages and Twitter direct messages all in one place.
Reports
Learn how to create reports that show off the metrics that are important to you. We'll look at scheduled and custom reports.Interested in booking a session? Get in touch for a no obligation quote.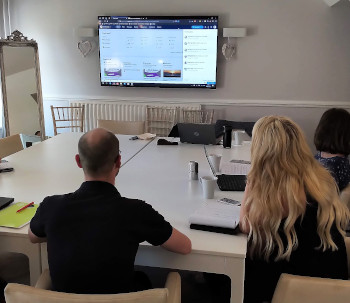 Pricing
Private session at your office - £495
Any number of people. Price is for most of mainland UK & Wales inc London - Please get in touch for a quote if you're in Scotland, the very north of England, East Anglia, South East or Devon & Cornwall
Private online sessions
1 or 2 people - £195
3+ people - £297
(online sessions inc video recording)
Get a quote or ask a question
Training & Workshops Provided For