Podcasting Training Course
Private In-House, London, Manchester, Birmingham, Cardiff & UK Wide.
Learn how to create, edit & publish a podcast.
Check Prices
Email Support & Access to Training Hub
Sessions Last Around 4-5 Hours
If Online Video Recording Included
1-2-1 & Group Tutor Led Training
"I thought I'd send you a quick update on my progress.  I have started producing and co-hosting my podcast.  We have produced 20 episodes so far. I'm learning every week and definitely trying to improve the sound, flow and editing, it is a work in progress.
I wanted to thank you again for all your help" – Roisin
Training provided by a former radio broadcaster, podcaster & digital Marketer.
My experience: Over 17 years in radio, 200+ interviews including celebs & politicians, podcasting since 2014.
This Podcast Training Course Includes:
+ 4/5 hours of private online/in-house training with Jon
+ Access to my online podcasting training hub with 3+ hrs of video tutorials
+ Post training support via email or short online sessions.
+ We'll set up a mini studio & do some editing during the session. I'll bring gear.
New! Added a section about how to use Ai ChatGPT to brainstorm ideas, write draft show notes and research interview questions.
Designed for marketing execs, teams and agencies. This one day podcast training course will give you the confidence to create, edit and publish a podcast.
The main focus of the training is to help you build a podcast that will inform, educate and entertain your audience, clients or staff.
Great for sales & marketing – podcasts help with authority building and increasing leads/sales.
Amazing for non-profits – use podcasts to get your message over and go deep into the topics that matter to your audience.
You'll also receive post training email support and short online sessions if needed.
The session lasts between four and five hours and can be delivered one-to-one or to groups online or at your office anywhere in the UK.
This 1 day podcasting training course includes:
An introduction to podcasting
A look at the different styles and formats of podcasts. We'll also discuss how podcasting can help you reach your marketing/business/organisation goals.
Hosting, Apple Podcasts, Spotify, Amazon, Google… RSS Feeds!
Some of the technical aspects of podcasting explained. We'll talk podcast hosting and getting your podcast on Apple Podcasts and Spotify.
Private Podcasts and Audio Automation
A quick look at the latest advances in podcasting including private & premium podcasts and how to automate Podcast episodes like you would with email marketing.
Producing a podcast
Learn how to put a podcast together. Essential advice on what needs to be done before recording and editing.
Using Ai ChatGPT to help produce your podcast
A very interactive look at how to use generative text from ChatGPT to come up with interview question ideas, perform research and create draft show notes. Its a great tool for ideas and we'll dig into it.
Equipment and tools
A section devoted to gear! The different types of microphones explained. Do you need an Audio interface? Is a smartphone good enough for recording? This section also looks at noise reduction techniques.
Presenting and interviewing techniques
Discover ways to get the most out of your podcast idea. We'll look at different styles of presentation, mic levels and lots of interview tips. This section also looks at recording interviews via Skype.
Podcast editing
We'll look at the tools you need to edit your podcast. Learn noise reduction, basic audio editing and how to slot in intro's and outro's.
Mastering and publishing your podcast
Learn how to create the final MP3. This section also looks at ID3 tags and how to apply them to your podcast.
Marketing your podcast
Discover ways to promote your podcast, get new listeners and use your podcast in social media including YouTube.
Audience engagement
Getting involved with your audience is essential for a successful podcast. Learn how to request reviews and start building a community around your podcast.
Sourcing sound FX and music and other resources
We'll look at a number of resources that you'll need to create your podcast. Includes finding sound FX, music beds and images that you can use within your programme.
Interested in booking a session? Get in touch for a no obligation quote.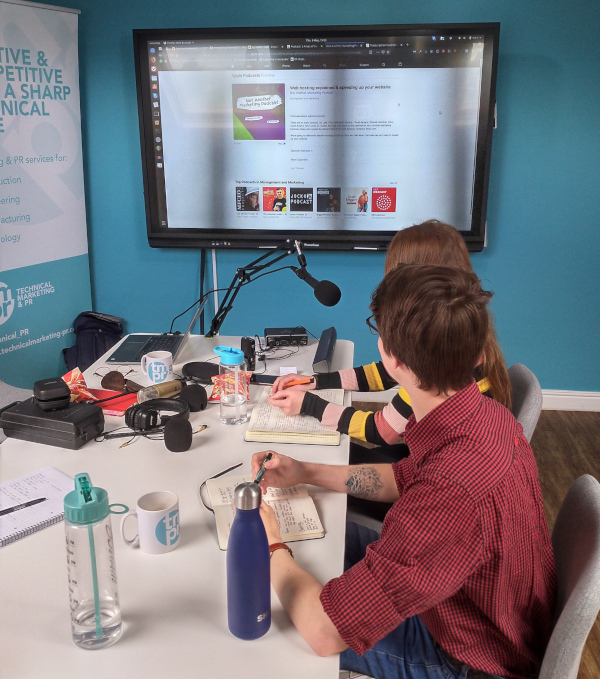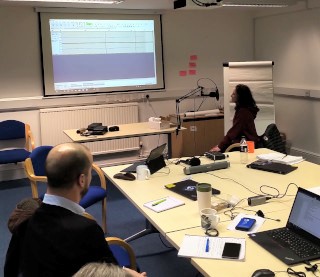 Pricing
Private session at your office - £495
Any number of people. Price is for most of mainland UK & Wales inc London - Please get in touch for a quote if you're in Scotland, the very north of England, East Anglia, South East or Devon & Cornwall
Private online sessions
1 or 2 people - £195
3+ people - £297
(online sessions inc video recording)
Get a quote or ask a question
"Just want to say a massive thank you for today. Think the full team have learnt so much more than they expected coming into the session. It is great to take part in training that you come away excited to put the different ideas it into action. I also really appreciate the time you took to focus on our companies set up especially" – Victoria