SEO Training Course – Private In House, Birmingham, London, Manchester, Cardiff & UK Wide.
Understand SEO & web copywriting.
Learn how to monitor ranking positions, keywords and pages.
Includes competitor keyword & backlink analysis.
Training designed for web editors & marketing teams.
Sessions Last Around 4 -5 Hours
Includes slides & downloads
1-2-1 & Group Tutor Led Training

Search Engine Optimisation Training Overview
If you want to take your website and content to the next level then my one-day Search Engine Optimisation (SEO) training course is for you.
Whether you're a business owner, web editor or member of the marketing team this one day workshop will give you the skills to help improve your website's search rankings.
SEO needn't be difficult or confusing.
This 1 day SEO course covers:
NEW!

A non technical look at Google's Core Web Vitals

NEW!

Trying to understand what Google wants from your website
How search engines work and what they think of your website
SEO best practice including all the titles & tags.
How to research keywords/phrases and search intent.
SEO copywriting for content that Google and your visitors will love
Do links still matter? Learn how to put a linking strategy in place.
Monitoring and tracking of positions, pages, keywords.
Competitor keyword and link analysis.
Plus much more. The session is built so there's plenty of time for questions.
This session lasts around four to five hours and can be delivered one-to-one online or to groups anywhere in the UK. I deliver informal and interactive training, using live examples and make the course content relate to you and your business or agency.
"Thanks Jon for a great training session, my colleague and I both felt like we learnt so much information in just one day. It was great that you had done so much background research on our website before you visited, and you provided us with a very comprehensive action plan and set of ideas going forward. We both feel much more confident in writing content and ensuring it all helps our SEO. Thanks again!."
"After receiving three days of training by Jon on understanding google search console, google analytics and how to create relevant content for our website we are now confident as a team to take things in our own hands and handle our own SEO in house. We found all information provided by Jon easy to digest (as you can understand how technical things can be in regards to SEO) – Would highly recommend the training courses Jon offers to everyone that wants to have a clear understanding of SEO."
"I would just like to say how excellent the SEO training service that you delivered was. It was a refreshing change to have things explained in layman's terms instead of too much technical baffle. Jon helped us no end to understand what it is we have to do to optimise our websites and provided an excellent package to help us along our way. I would quite happily recommend him to anybody wanting to learn about marketing on the internet."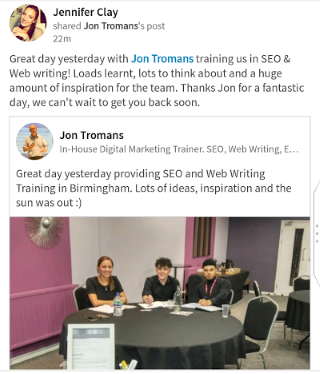 Get a quote or ask a question
Online SEO Training Course Full Outline
Understanding Search Engines and What is SEO
Learn how the search engines find your pages, what they read and what you need to do to attain better rankings. I'll also help you understand exactly what SEO is and what it means to your website.
Search Engine Optimisation techniques
We look at title and description tags, explain what they are and how to write them. This section covers all the tags, titles and headers you need to create a better performing website.
What Google wants from your website
Learn about Google's search rater guidelines and how it can be used to identify content styles and functionality that Google looks for in a website.
Researching keywords and phrases
You'll learn about keywords, phrases and long tail keywords plus I'll show you tools that can help you pick the best key phrases. You'll also learn about how to build search intent into your content.
Core Web Vitals
A non-technical look at Google's new Core Web Vitals. Understand what they are trying to accomplish and how you may need to change aspects of your website. We'll talk about Large Contentful Paint (LCP). First Input Delay (FID) and Cumulative Layout Shift (CLS).
Creating search and user-friendly content for your website
A look at online copywriting and how to create search and user friendly content the converts into leads and sales. This section also looks at internal navigation and URL structure.
Links and link building – the right and wrong ways explained
Discover the right way to deal with links and more importantly you'll learn what not to do
Local SEO & Google My Business
I'll show you how to take advantage of the explosion in local search and get listed for local searches.
Advanced SEO techniques
I'll make you aware of rich snippets, schemas and other advanced techniques so you can work with your web developer to create a better performing website.
Measuring and tracking ranking positions, pages and keywords
I'll introduce you to a number of tools that can help you monitor your SEO efforts. Track positions of pages and keywords.
Competitor Analysis
We'll look at ways to analyse your competitors search positions, key words and backlinks. Can you learn from the competition.
Using Google Search Console
We'll have a quick look at the free tools from Google. Spot problems and monitor the search health of your website.
"I contacted Jon at JTID after deciding to undertake the SEO work on our websites instead of employing an expensive web marketing company. Besides the 1 day course being competitively priced, Jon was happy to answer all of my queries on the phone prior to commencing with the course. On the day of the course, Jon arrived on-time and was happy to recap over all of the topics that we had discussed in depth and continues to offer post-course advice which is invaluable to us. When conducting the course, Jon never rushed through the SEO training and asked if I understood the information before progressing to another topic. I strongly recommend JTID to anyone wishing to update their website. We have gained a much needed insight into SEO with Jons help and will be booking further courses with Jon in the future!"
"As the owner of a small social enterprise trying to maintain her own website, and a complete novice when it comes to SEO, I was completely mystified and somewhat daunted by the task, but Jon's clear presentation and patient explanations of the various approaches to improving my search engine visibility not only made it seem possible but I actually found the whole process fascinating!"