Evernote Training Course & Consultancy UK
Private Remote & In-House training, UK Wide & In Birmingham, London, Manchester & Cardiff.
Learn to use Evernote like a Pro. Get organised. Become productive.
Check Prices
Sessions from 1 hour to full day.
Remote or at your office. Mainland UK.
1-2-1 or Group Tutor Led Training

Evernote training & consultancy for marketers, agencies, freelancers, developers & information workers.
Do you need some help with Evernote? I've been using Evernote since around 2008 and it plays a huge role in keeping me and my work organised. I use it to manage design & marketing projects, run my podcast and store & quickly retrieve important documents.
I can help you by offering consultancy hours or a full day of training – remote or at your office.
On the consultancy side I can help you use Evernote like a pro, organise your information, work on processes and guide you on automating areas of your workflow.
On the training side I can offer sessions dedicated to individual areas or help you with a full day of training (around 4 – 5 hours).
My training is backed up by email support and access to online training materials. I'm also an Evernote Certified Expert and keep my training up to date.
1 Day Training Overview
What is Evernote & how can it make me more productive?
An introduction to what Evernote is and how it can help you. We'll talk about your workflows and processes and find out how Evernote can be built into the way you work. The focus is on Documentation, Processes and Communication.
Building a structure
Notebooks, Stacks, Spaces, Notes & Tags. We'll go deep into the hierarchy and organisation of Evernote. We'll also talk about how good documentation can help you become more productive.
Formatting notes, setting reminders & advanced note management
A good look at the formatting options that Evernote offers. We'll discover how you and your organisation can use formatting to present your notes and documentation in a visually pleasing way. We'll also dig into advanced note options like exporting and finding note history.
Evernote Tasks
My favourite Evernote feature. A deep dive into the task system. We'll talk about how tasks can enhance your workflow, setting recurring tasks and assigning tasks to others.
Process and workflow management
We'll look at how to create workflows/processes that you and your team can work from and save these notes as templates. Good process management can reduce unnecessary communication and helps keep everyone on track.
Advanced collection & storage techniques
Taking things to the next level. We'll discover how Import Folders can help you get information into Evernote quickly. We'll also look at emailing notes into Evernote and find out about the Web Clipper. Plus, document scanning with the phone app!
Retrieving your information
Search, advanced search and ways to retrieve your information quickly. We'll look at saved searches, advanced Boolean search queries, shortcuts and more.
Evernote Home & Calendar
A fairly new feature from Evernote is the Home Screen. Learn about widgets and how they can help keep you productive. We'll also dig into setting up your Google Calendar so you can assign notes to meetings and have notes, events and tasks all in one place.
Sharing. Within your team and externally.
Get collaborative with your team and clients. We'll look at how to share notes, notebooks and tasks from Evernote and touch on the Spaces feature within Evernote Teams.
Automating your business process
We'll discuss your internal workflows and see if there are ways to connect Evernote with other apps that you use. Lots of examples.
Q & A
There's always time for lots of questions and recaps.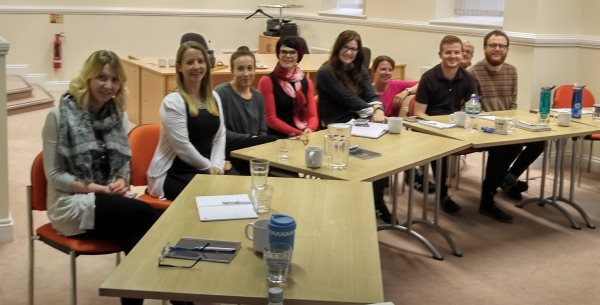 Pricing
Private session at your office - £495
Any number of people. Price is for most of mainland UK & Wales inc London - Please get in touch for a quote if you're in Scotland, the very north of England, East Anglia, South East or Devon & Cornwall
Private online sessions
1 or 2 people - £195
3+ people - £297
(online sessions inc video recording)
Get a quote or ask a question
Just want to say a massive thank you for today. Think the full team have learnt so much more than they expected coming into the session. It is great to take part in training that you come away excited to put the different ideas it into action. I also really appreciate the time you took to focus on our companies set up especially.