Training & Workshops Provided For

After spending 15 years in Radio/TV publishing I moved into the world of digital marketing and for the past 20 years I've helped companies of all sizes with their web & digital publishing.
The main focus of my work is training and consultation. Over the years I've trained individuals, SME's and global enterprises. I'm here to help.
SEO Training
There was a time before Google & Bing , in fact I remember filling in the old Yahoo! directory forms to get clients listed. I've seen all the mistakes, made a few of them myself and I understand what the search engines want to see from a website.
The SEO training I offer is designed to help you create a search engine and user friendly website.
My SEO training is also available as an online, on-demand video course.
Social Media Training For Business
My social media training focuses on business use and will help you develop a positive attitude for your brand as well as generating sales and leads. I also help companies put strategies in place to offer superb customer service using social media.
Ecommerce Product Description Training
If you run an eCommerce website then my product description training is perfect to help you create an exciting and converting selling machine.
Business Blogging Training
Blogging can be a powerful tool to generate new sales, leads and excite your customers. My Blogging Training Day is one of my most popular training sessions and available to companies of all sizes.
Email Marketing & MailChimp Training
Email marketing is still a very powerful tool that can drive sales and leads to a business of any size. My Email Marketing & MailChimp Training focuses on managing lists, creating emails, sending campaigns and tracking the results. Learn new skills and how to make the most of MailChimp and your mailing list.
About The Training
I pride myself in offering exciting and motivating training. Its NOT death by Powerpoint!
All training  can be provided 1-2-1 or to small or large groups and I've spoken on stage to just under 30,000 people so audience size is not a problem!
Have a podcast? Get in touch if you'd like me as a guest on your Marketing or business podcast.
I'm based in Ludlow, Shropshire in the West Midlands, work from offices in Birmingham, Manchester and Cardiff but offer my services to the whole of the UK including on site training in London.
Browse my website to find more about the training I offer and get in touch if you have a question.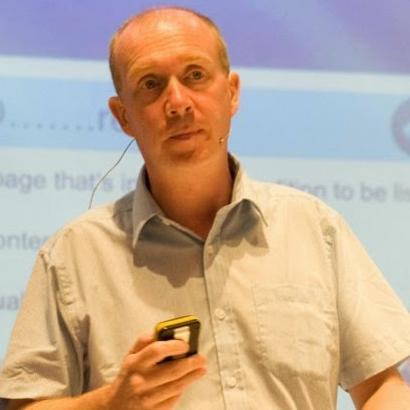 Jon's training is engaging and flows naturally. It is clear Jon has a vast knowledge of SEO as he provides live examples on his own websites and supports you with any issues with your own, throughout the day. A fantastic training session and enjoyable day.