WordPress Training - Online & Private In House, Birmingham, London, Manchester, Cardiff & UK Wide
One of the best WordPress training courses for marketers & website owners
Check Prices
Learn how to manage your WordPress website with ease.
This WordPress Essential Training Course Includes:
+ Over 2 hours of video tutorials.
+ A WordPress test website for 12 months. Try things you learn during the training without breaking your website.
Designed for website owners, editors and marketeers this one day WordPress training course will give you the confidence to manage and update your WordPress website with ease.
The main focus of the training is to help you create and manage content, manage images and other media, work with widgets and plugins, deal with comments and back up your website whenever you want.
On top of the training you also get access to over 30 tutorial videos lasting more than 2 hours in total so you can revisit certain areas of the training after the session. You'll also get a WordPress test website for 12 months so you can practice without messing up your own website. There's also post training email support and short Skype sessions if needed.
The training lasts between four and five hours and can be delivered one-to-one or to large groups anywhere in the UK.
1 day training in WordPress course outline:
Understanding the WordPress dashboard
Editing your profile & changing your username, display name and password
The difference between WordPress Pages and Posts
A look at all the different post formats. Images, video, audio posts etc
Categories and Tags. What's the difference?
Creating new pages and posts. An in-depth look at the WordPress content editor
How to use the media manager. Manage images, files, PDFs and downloads
Adding images to your posts and pages
Creating photo galleries
Adding video to your posts and pages
Adding PDF and file downloads to your posts and pages
Publishing and scheduling your WordPress posts and pages
Managing and searching your articles
Don't lose your work. A look at the Autosave and Revision functionality in WordPress
Managing, creating and editing navigation menus
Adding, editing and managing WordPress Widgets
Using the WordPress theme customiser
Managing, approving and moderating comments
Adding and updating WordPress Plugins
A walkthrough of all the various settings including General, Writing, Reading, Discussion and Media
How to make any page your home page
Understanding Permalinks. Changing the structure of your URLs
Adding and managing Users
How to backup and download a copy of your WordPress website
Updating Themes and the main WordPress installation
Interested in booking a session? Get in touch for a no obligation quote.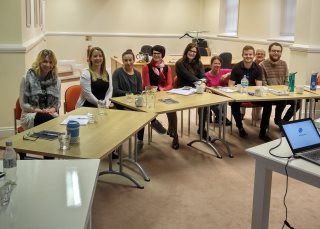 Online Training Prices
1 Person
£150
2 people
£198
3+ people
£297
Prepayment required to secure a booking. Payments via bank transfer or online via credit/debit card.
Training & Workshops Provided For