In House Content Writing Training UK Wide & in Birmingham, Manchester and Cardiff
Learn how to write converting & exciting copy for the web
Writing for the web is very different to writing for magazines, newspapers or other physical publications. You have to contend with shorter attention spans, different screen sizes like mobile phones and of course, the search engines.
Learning to write quality, original copy for the web can help increase conversions and make your website an exciting place for your visitor.
This 1 day training course is motivating and highly informative for anyone who writes for the web.
You'll learn the following during my Content Writing training course
How web copy differs from other content
A look at how people interact differently with web content than traditional media.
Targeting your copy at your reader or customer
You'll learn how to write for your customer to help increase conversion rates.
Writing techniques and tips
Learn new techniques on how to structure your writing so its to the point and easy to consume.
Selling benefits and features
Both are very important. We look in depth at how to create a benefit out of a feature of your product or service.
Developing a content calendar
Learn how to plan your content well into the future & develop new ideas. You'll never be stuck for words again.
Using power and sell words
Discover words that will turn your writing into sales and conversions.
Optimising your copy for the search engines
An SEO 101. Learn all about titles and tags, why they are important and how to write them.
Keyword research
Learn the basics of keyword research and discover the tools to make it much easier.
Writing for social media
Discover tips & techniques for writing better Twitter and Facebook posts.
Blogging for your business
Find out why blogging is important and how to make your blogging life a little easier. Never be stuck for an idea.
SEO Glossary
You'll also receive a glossary of terms to help you understand all the different phrases and acronyms used in the SEO world.
After receiving three days of training by Jon on understanding google search console, google analytics and how to create relevant content for our website we are now confident as a team to take things in our own hands and handle our own SEO in house.
We found all information provided by Jon easy to digest (as you can understand how technical things can be in regards to SEO) – Would highly recommend the training courses Jon offers to everyone that wants to have a clear understanding of SEO.
Mohammed Ahmed
I would like to take this opportunity to thank and praise Jon for providing a well thought out and superbly executed SEO & Online Marketing course. Jon has continued to provide detailed support and advice whenever possible.
The course has given me the confidence and the ability to successfully manage my brand new site.
Joshua Weaver from wearepromotionalproducts.co.uk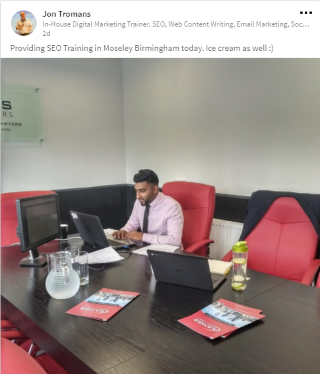 How is the training presented?
Its informal. I don't stand there with a power point presentation telling you stuff! I can present this as training for individuals, small groups or organisations.
How long does it last?
The full session usually lasts around 4 – 5 hours and there's plenty of time for a lunch break and questions.
Where does the training take place?
I can come to you or you to me. I have offices in Birmingham, Manchester & Cardiff or I can come to your place almost anywhere in the UK including London.
What else do you get ?
+ Access to my free Online SEO & Marketing manual to keep and refer to after the training has finished
+ 30 days email/phone support in case you have more questions.
Training & Workshops Provided For