Social Media Marketing Training - Online & Private In House, UK Wide & Birmingham, London, Manchester & Cardiff
Private 1-2-1 or group training courses
Check Prices
Sessions Last Around 4-5 Hours
Includes slides & downloads
1-2-1 & Group Tutor Led Training
Support & Online Follow Up Sessions If Needed
My Social Media Training will help you 
make social media work for your business
.
From building a strategy to what to post and how to analyse results, this training will help you to find new clients, provide support and interact positively with existing and potential customers.
The training can be 1-2-1 or presented to small groups and will focus on selecting the right social media for your business, generating content for these services and analysing the results so you know what works and more importantly what doesn't.
This training also includes an in-depth look at using Social Media Management Software that can help you look after multiple social media networks from one place.

You'll learn the following during my
Social Media training Course
Choosing the right social media platforms for your business
It's impossible to update them all so together we'll look at your business and decide which platforms are important.
Auditing your social media profile pages
The do's and don't of profile building. We'll look at your existing profile and see where changes can be made.
Developing a social media attitude & brand personality
Create a solid strategy for the voice of your brand.
Creating a social media content calendar
Never be stuck for ideas & learn how to keep on top of your content through planning.
Creating, writing & editing social media posts
Find out how to write great engaging content. Learn copywriting tips and how to research hashtags.
Brand & Competitor Listening
A section devoted to advanced social media listening. What are people saying about you & your competitors.
Using Social Media management software 
An in depth look at how to save lots of time managing your social media in one place.
Scheduling Your Social Media
How to schedule, what to schedule and more importantly, what not to schedule!
Customer service & social media
Make sure you don't miss questions & queries about your brand or products. Together we'll set up a customer service monitoring area using Hootsuite.
Creating a social media policy
We can work together to create a social media policy for your business.
Dealing with comments & negative posts
Learn how to respond to positive and negative comments about your brand or products.
Growing your followers 
Discover ways to increase your followers & engage influencers.
Avoiding mistakes
Learn about the pitfalls and mistakes that can be made using social media.
Training & Workshops Provided For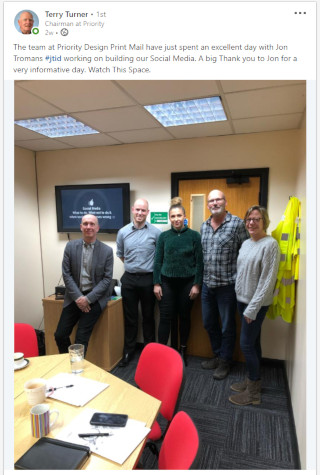 Online Training Prices
1 Person
£150
2 people
£198
3+ people
£297
Prepayment required to secure a booking. Payments via bank transfer or online via credit/debit card.