We've all been there. Knocking out blog posts and web pages quickly and without really thinking about what we're doing. I've done it and you've done it. We sometimes think that quantity of content is important but it's not really.
Quality articles that are well targeted, useful and informative always work the best.
During my Content Marketing & Blogging Training sessions, I try to simplify things, make the process of creating good content straightforward and not confuse the issue with analysing things too much.
If you create content for a website or blog then these are the six main stages you need to follow. Build this workflow into your routine and you'll immediately be building content that people want to read.
At the bottom of this article, you can download a simple content marketing planning template.
What's the goal of your content?
This is the easy bit.
What do you want your reader to do next?
It may be buy something, fill in a lead generation form or download an ebook.
Make sure your content directs people towards the goal and offer more than one 'Call To Action' asking your reader to move to the next step.
Know who you're writing for
If you understand your audience you can give them what they want. Targeting your copy to the people who are going to read it is essential and if you get this right it's one obstacle out of the way.
My son couldn't possibly sit through one the 3000 word Guardian articles I read because it's not for him. I look at some of the YouTube videos he watches and shake my head, it's not for me.
Develop content for the people you are targeting, they will thank you for it.
One technique is to create a basic persona for your writing. You may need two or three if you're targeting different audiences. Make up a name, age, sex and occupation. Who are they? What do they like?
Write down what makes them complete the goal of your content?

One of the agencies I've worked with bought teddy bears into the office and dressed them up as they're personas. They sit them in front of the screen when creating content. You don't have to go to this extent but if you do send me a photo 😉
Need some extra help?
RESEARCH – CREATING – PROMOTING – TRACKING
All covered during my Content Marketing Training
Online or in house
How to research your blog post or article
Spend some time working out what to write about and see if anyone wants to read it!
It's a good idea to have a bank of ideas to call on for content. Have a brainstorm with yourself or colleagues and come up with a LOT of ideas for articles and blog posts. Most of these ideas won't make it to the draft stage but they may inspire new directions.
I have around 60 ideas written down for blog posts but not all will be turned into articles.
Once you've decided on an idea use Google Trends to find the popularity of the topic.
It's no good creating an amazing article about something nobody is interested in.
Google Trends will show you the popularity of a key phrase over time.
The graph below shows the popularity of 'Content Marketing' over the last 5 years. On the far right is 2018 which shows that this phrase is pretty much at its most popular. Good for an article for, right!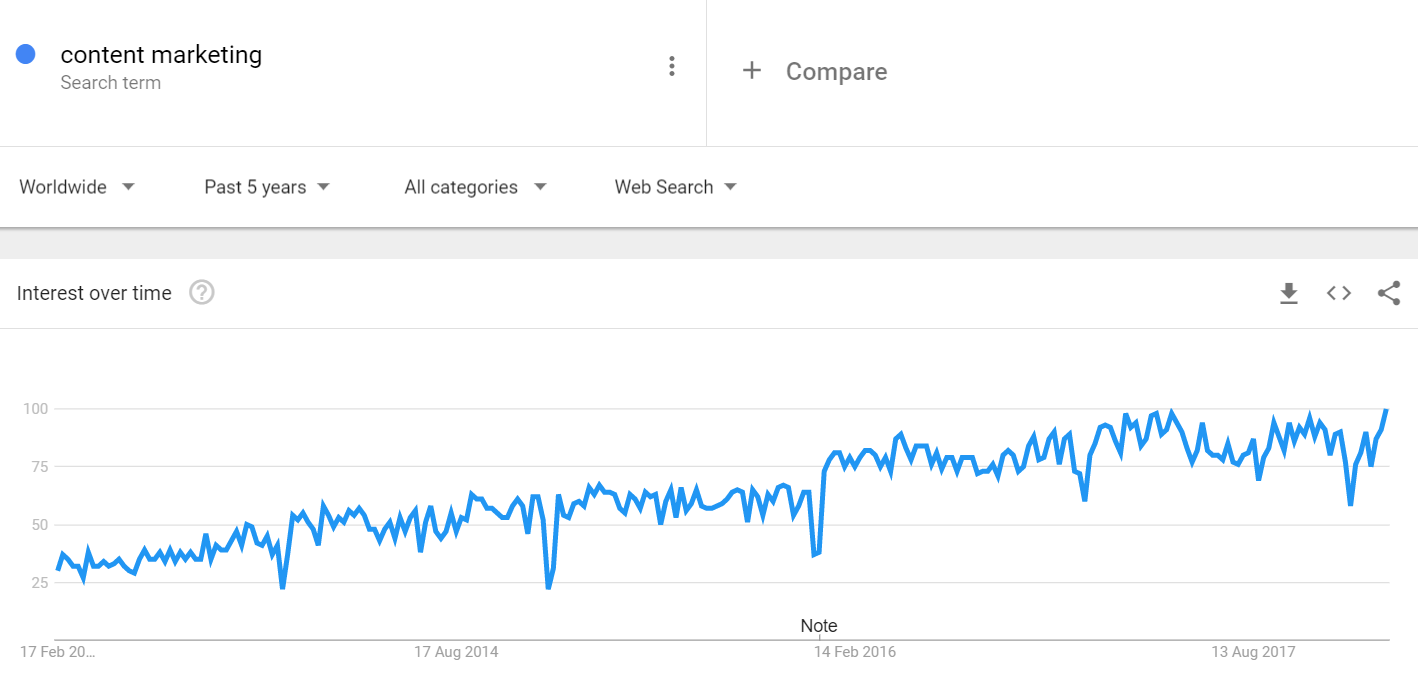 The numbers on the left of the graph are not the number of searches, they demonstrate how popular the search term is over time. A score of 100 is the height of popularity, 50 would be half as popular as it has been.
The graph shows that the phrase 'content marketing' is touching 100 so over the last 5 years it's now as popular as its ever been.
Another useful feature of Google Trends is the Related Topics and Queries charts which can give you a few ideas on what sub-topics to build into the article.

Keyword research
The next step is to do some keyword/phrase research and work out what words and phrases people are using when searching for the topic you're writing for. You're going to want to use a few of these phrases within the article.
There are a number of tools that can help you with this including Google Adwords Keyword Planner which is free if you have a Google Adwords account.
Another tool I use is Storybase.com which not only offers key phrase ideas but related queries, suggested questions and demographics on popular searches.

I find the questions section really useful. It can inspire new blog post ideas or give you some inspiration for headings and sections within your article.

Don't forget to research your topic well so you know exactly what you're writing.
Remember inbound or content marketing needs to be useful, informative and absolutely not a sales pitch!
Creation. Blog/article writing tips
Once you've decided what to write about start the creation process. Don't do it one go. This article was written over a number of days and I've usually got at least six articles on the go at any one time all at different stages of completion so there's always something almost ready to publish.
It's mobile first
Think about mobile first so make paragraphs reasonably short, use attractive images and graphics that mean something, not just stock photography.
Attract attention with good titles and paragraph headings. We only skim read articles so your article title and all the paragraph heading need to ask a question, solve a problem or be of value to the person reading it.
Evergreen content is essential
Try and make your content Evergreen so it doesn't go out of date or lasts a long time.
This is essential if you want to keep using your content to help drive leads, sales and authority. You can run Facebook campaigns, LinkedIn ads and promote your article on all your social media platforms for as long as the content lasts.
This article is evergreen, it will be just as relevant in 12 months as it is now.
Don't forget your call's to action
Make sure to include multiple 'Calls To Action' within the article. Not everyone is going to make it to the bottom of the page so don't just leave your Download Now, Get A Free Ebook pitch to the end.
Make sure there's something at the top and if it's a long article in the middle as well as the bottom. Vary the wording and style so you don't irritate.
A good tip for writing Call's To Action is to think about what you want the reader to do next. Is it fill in a form or buy something?
Here's an example of a Call To Action. You can also see it a little higher up the page, just in case you don't get this far down 😉
Need some extra help?
RESEARCH – CREATING – PROMOTING – TRACKING
All covered during my Content Marketing Training
Online or in house
Finally, don't forget to check your spelling and 
run your words through Grammarly
just in case you've missed something.
Do some basic SEO
Think up a sexy and clickable Title Tag and don't forget the META Description. Both of these tags are seen within the search results and are the text that's passed on when people share your content via social media.
Whatever appears in the Title tag appears in the text of the Tweet.
Don't forget the Image ALT tag. Screen readers say the content of the ALT tag. You want it to explain what the image is. This is essential if you want your content to be accessible by partially sighted people.
Promotion
Now that your content is live you want to start some promotion.
Look at all your digital channels. Use Social Media, Email Marketing and maybe some limited promotional time on the front page of your website.
Social Media
Work out exactly what you want to do on each channel. For example, you may want to tweet the article as soon as it goes live or build it into an upcoming campaign.
Never tweet anything once. The life expectancy of a tweet is around 20 minutes so make sure you create multiple posts.
Use software like Zoho Social or Buffer to send posts out when your audience are most active.
It's always a good idea to boost your post on Facebook or build it into an advertising campaign. You want to try and get your new article noticed so promote it as much as you can. Don't just leave people to find it as they probably won't.
If you do any Facebook advertising remember to define a target audience for your content to get the best results.
Scheduling social media
If you've written an evergreen article that doesn't go out of date then continuously promote it. Schedule posts on Social Media using different titles.
I've created a spreadsheet of all my content with columns for Schedule Date, Post Content, Link URL and Image URL. I upload this to Zoho Social which schedules everything in one go.

It's OK to schedule. People don't see all your posts so the chances of them coming across the same post twice are pretty slim.
I have around 35 posts on my spreadsheet and make sure one goes out a day. Once this hits 60 I'm going to start posting 2 a day.
Go through your existing blog or article list and find content that can be scheduled. It may need a quick edit to get it ready but this evergreen content is really valuable and can be used to drive leads and engagement into the future.
Work out a social media strategy that covers the immediate and future promotion and stick to this strategy for all your content.
I wrote an article some time ago about scheduling social media and it may be of interest.
Tracking
Hits and page views are all well and good but if they are not turning into sales, leads, downloads or completing the goal of the article then its a waste of time.
Checking your hits in Google Analytics is all well and good but also set up some goals.
For example, the goal of your content could be to generate leads via a web form. The 'thank you' page for the form can only be accessed when someone fills it in so make sure you add this page as a goal in Google Analytics.

To see how many goals have been achieved log into Google Analytics and goto:
Conversions --> Goals --> Overview
To see the path people have taken to get to your goal go to:
Conversions --> Goals --> Reverse Goal Path
Another excellent report is to look at how the number of goals your landing pages have generated:
Behaviour --> Site Content --> Landing Pages
Using these three reports you can work out if people land on your article and then proceed to complete the goal.
Google Analytics tracking URL
Building a Google Analytics tracking URL gives you the chance to track the performance of your content from the various places you publish it. For example, you can build a tracking URL for articles promoted on Twitter, Facebook or within Email Marketing campaigns.
You can build a different URL for different promotional platforms and monitor the results in:
Acquisition --> Campaigns --> All Campaigns.
This is what a simple example tracking URL looks like:
www.jtid.co.uk/?utm_source=EmailNewsletter&utm_campaign=FebWebinar
When this URL is clicked Google Analytics will record that it came from my Email Newsletter and it was about my February Webinar.
Create your own tracking URLs and monitor the results.
Conclusion
Creating a plan for your content is essential. Working on quality articles that people want to read will bring you much better results than just 'knocking out a blog post'.
Whilst this article is long the whole content plan boils down to these simple points:
What's the goal? Decide why you are writing the article. What do you want your reader to do next?
Perform research. Make sure you write something that people want to read.
Creation. Make your article high in quality. Invest time and effort in your work.
Promotion. Make sure you tell people the article exists. Don't expect them to find it.
Tracking & Measuring. Is the article succeeding in completing its goal?
I've put together a content marketing planning template below and you can download it as a PDF. Feel free to copy and change it to meet your needs.
I hope you've found this article useful. I'm always interested in hearing your thoughts so leave any questions or comments below.