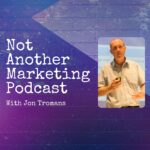 Welcome to Not Another Marketing Podcast where I'm talking to Daniel Glickman, Chief Marketing Officer at wave.video.
Episode 78
Are you struggling with your video marketing? Do you know you should be doing better? I certainly struggle with video and in this episode of Not Another Marketing Podcast I'm talking to the CMO of wave.video Daniel Glickman.
The next half hour will make the process of video marketing make sense. Daniel offers up massive amounts of knowledge and insight on how to generate leads, sales and more authority & trust using video.
You can find Daniel on Twitter @cmoconfessor and on LinkedIn. Check out wave.video for amazing cloud-based video creation software and Daniels blog & podcast are at cmoconfessions.com.
Can I quickly mention is that NAMP is totally ad free and I'd love it if you could give the pod a quick shout on social media and subscribe via your podcast app.
Find more episodes of Not Another Marketing Podcast at https://www.jtid.co.uk