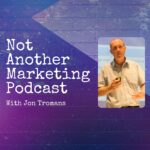 Over the last few weeks I've been talking to a lot of people about the latest Google Penalty which can effect websites that use Interstitial Ads or pop up boxes on the mobile version of their website.
This penalty only effects the mobile search results and Episode 56 of The Digital Marketing Tips Podcast looks at what you can do to protect yourself from a possible drop in rankings.
This is the link to the Google Blog post where they explain about the new penalty:
https://webmasters.googleblog.com/2016/08/helping-users-easily-access-content-on.html
During the podcast I mention a service called Sumo Me that can track how far down the page people scroll:
https://sumo.com/
I also mention my latest 7 Day Email Marketing E-Course
https://www.jtid.co.uk/email-marketing-course/
If you've enjoyed this podcast you can subscribe on iTunes, Stitcher or TuneIn and if you've got a moment I'd love a quick review.
Ask questions or catch up with me on Twitter or Facebook.
Thanks for listening.