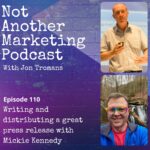 Welcome to Not Another Marketing Podcast where I'm talking to Mickie Kennedy, the founder of press release distribution service eReleases.com. We're talking about how to target, write and distribute a great press release.
Episode 110
In a world of social media and instant everything press releases can seem a little bit old school but they never went away and can really help you increase brand exposure and generate sales and leads. They still work.
In this episode I'm talking to Mickie Kennedy who's the founder of eReleases.com who distribute press releases to journalists and the PR wire network. It's a chat full of tips and advice on how to get ideas for releases, target them correctly write them and get results with them. Lots of insight
You can find Mickie on the eReleases website and also on LinkedIn, Twitter, Facebook.
Can I quickly mention is that NAMP is totally ad free and I'd love it if you could give the pod a quick shout on social media and subscribe via your podcast app.
Check out more podcasts at https://www.jtid.co.uk/podcasts