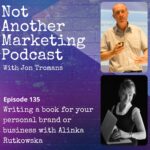 Welcome to Not Another Marketing Podcast where I'm talking to Alinka Rutkowska, CEO of Leaders Press who create books for entrepreneurs from scratch so we're talking writing a book for your business.
Episode 135
Should you write a book for your business? Will it generate leads and sales or can it help build authority and trust?
These questions answered by Alinka Rutkowska the CEO of Leaders Press.
Stand by for a huge amount of tips and insight on getting a book ghost written to help your business or personal brand. We talk about the reasons for writing a book, how to plan things out and if it actually works.
You can find Alinka on the Leaders Press website and don't forget to check out her brilliant post on how to get a book published.