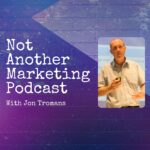 Welcome to Not Another Marketing Podcast where I'm talking to Ghostwriter & editor Laura Gale about writing a business book.
Episode 84
Are you thinking about writing a business book? Maybe something to help generate leads and sales or a legacy book at the end of your career? This episode is for you.
I spent some time talking to the brilliant Laura Gale who has ghostwritten over 15 books, edited a whole lot more and runs Laura Is Writing that helps entrepreneurs to write, publish and market their books.
Make sure you check out Laura's own books on her website. Download "How To Write This Book: Write, Publish and Market Your Business Bestseller" and "Content That Converts: How to Build A Profitable and Predictable B2B Content Marketing Strategy".
Can I quickly mention is that NAMP is totally ad free and I'd love it if you could give the pod a quick shout on social media and subscribe via your podcast app.