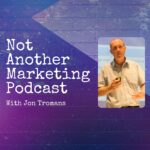 In this episode of Not Another Marketing podcast where we're talking to George Papadeas from FreeUp and The HOTH about the future for freelance marketers.
Episode 73
The marketing freelance world has taken a massive hit over the last few months with contracts being cancelled, budgets being cut and a lot of people getting a bit nervous for the future.
In episode 73 of Not Another Marketing Podcast I'm talking to George Papadeas who's COO of The HOTH and FreeUp about what he's seen happen to the marketing industry over the last few months and what he thinks the future holds for freelancers.
George has a huge amount of inside knowledge to share and if you are a freelancer who's looking for work right now take a look at FreeUp.
You can find the HOTH on the web, Twitter, Facebook and LinkedIn.
FreeUP is on the web here and Twitter, Facebook & LinkedIn.
Can I also quickly mention that Not Another Marketing Podcast is totally ad free and I'd love it if you could help keep it that way but giving the pod a quick shout on social media and subscribing via your podcast app.
There's also a companion newsletter to go with the podcast called Not Another Marketing Newsletter. It's once a month & crammed full of news, podcasts & interviews.
Sign up for Not Another Marketing Newsletter here and I promise no dodgy upsells!