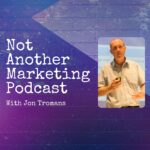 Welcome to Not Another Marketing Podcast where I'm talking to Technical SEO consultant and digital marketer Kevin Wiles. We're talking website speed, the Google May update and does your website really need to be super fast?.
Episode 96
Google are having a big update in May and the focus seems to be on site speed and usability, especially when looking at websites on mobile phones, but how fast does our website really need to be?
Kevin Wiles is a technical SEO and we chat about website speed and is it really worth saving half a second off your page load time. We also chat about the upcoming Google update in May and what it means for marketers.
You can find Kevin on his website kevinwiles.co.uk, LinkedIn or Twitter.
Can I quickly mention is that NAMP is totally ad free and I'd love it if you could give the pod a quick shout on social media and subscribe via your podcast app.