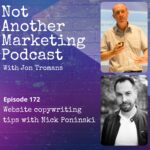 Welcome to Not Another Marketing Podcast where I'm talking to author and expert copywriter Nick Poninski about the basics of website copywriting. Listen up for lots of advice.
Episode 172
This is a great chat with Nick with plenty of advice on making your copy better.
👉 Design Vs Copy – which is more important
👉 What the most important part of a website is
👉 How to set up your service pages to engage your audience
👉 The secret to writing copy which converts (hint – it's not the writing!)
👉 Whether you should have Contact Pages or Mailing List sign ups on the bottom of every page
👉 Blogs are archaic, right? Wrong. And for one essential reason.
👉 Why the future of copy isn't necessarily AI
All these questions and more answered by author and expert copywriter Nick Poninski. We also talk a little about artificial intelligence and how good it is at writing copy.
You can find Nick on his website, LinkedIn and Instagram.