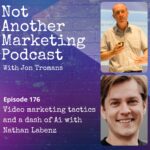 Welcome to Not Another Marketing Podcast where I'm talking to Nathan Labenz, the CEO of Waymark, the world's first input-free, automated marketing platform for video so we're talking video marketing & Ai.
Episode 176
Video marketing is hard. Coming up with ideas is hard. Creating the actual video is hard.
So this week I'm chatting to Nathan Labenz, the CEO of Waymark a video creation tool that use Ai to help you create video really quickly including ideas which is usually the hardest part.
Stand by for lots of video marketing help, advice and insights.
You can find Nathan on Twitter and Linkedin and Waymark on their website, Facebook, Instagram and LinkedIn.