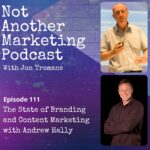 Welcome to Not Another Marketing Podcast where I'm talking to Andrew Hally, CMO of Bynder. We're talking about their recent State of Branding report and how content creation has changed over the last 12 months.
Episode 111
Bynder, a digital asset management platform, have recently released their latest State of Branding research. They've surveyed 1,600 marketing and creative professionals to work out the latest trends in branding and digital content creation.
This is a fascinating chat with Andrew Hally their CMO who explains more about the research and how the pandemic has changed the content world.
You can check out the report here and don't forget to connect with Andrew on LinkedIn.
Can I quickly mention is that Not Another Marketing Podcast is totally ad free and I'd love it if you could give the pod a quick shout on social media and subscribe via your podcast app.