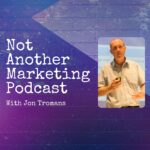 Welcome to Not Another Marketing Podcast where I'm talking to Abbey Schoenberg, Director of Marketing of Fancy.com one of the world's biggest social commerce platforms. We're talking Ad Blockers and if marketers need to worry about them.
Episode 88
A quick Google just before recording this podcast says around 25% of Internet users have Ad Blockers installed on their web browsers. That's a lot of people, so is this trend going to be a problem for marketers who want to show ads to folk?
Listen up to this episode where I talk to Abbey Schoenberg who is the director of marketing at fancy.com and has spent the past 12 years working with direct-to-consumer brands, building campaigns, programs, and strategies to drive brand love and generate growth. Online advertising is a huge part of that so it's great to get Abbey's view on the whole Ad Blocker scene.
Make sure you connect with Abbey on LinkedIn so check out the link in the show notes
Can I quickly mention is that NAMP is totally ad free and I'd love it if you could give the pod a quick shout on social media and subscribe via your podcast app