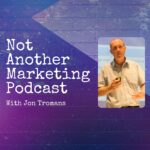 Welcome to Not Another Marketing Podcast where I'm talking to Dmitrii Kustov, the founder of Regex SEO agency. We're talking about the future of SEO for marketers so no pressure eh!
Episode 132
Search Engine Optimisation has been around pretty much since the first search engine was launched and it's changed a lot over the years but what about the future and I mean the future for us marketing folk, how will things change.
In this episode I'm talking to Dmitrii Kustov the founder of SEO agency Regex SEO. We talk about content, links, a few technical bits and where Dmitrii thinks we should be concentrating our time in the future.
You can find Dmitrii at Regex SEO and also on Twitter and LinkedIn.
Can I quickly mention is that Not Another Marketing Podcast is totally ad free and I'd love it if you could give the pod a quick shout on social media and subscribe via your podcast app.