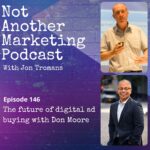 Welcome to Not Another Marketing Podcast where I'm talking Don Moore – CEO and President of Hybrid Theory a digital services company that powers smart data-driven advertising campaigns. We're talking about the future of digital ad buying.
Episode 146
Buying digital ads can be complicated, very complicated and it's really easy to waste a lot of money. Facebook and Google seem to have things all tied up and artificial intelligence looks to be taking over the delivery of our campaigns.
In this episode I'm chatting to Don Moore, the CEO and President of Hybrid Theory who help SMEs navigate the complexity of the digital ad world. Don shares how he thinks ad buying will change in the near future, where the next opportunities will be and how privacy concerns may change the way we buy ads.
You can find Don and Hybrid theory on their website, LinkedIn, Facebook and Twitter.