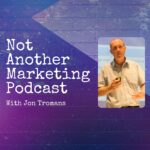 Welcome to Not Another Marketing Podcast where I'm talking to Jon Lightfoot the Founder & CEO of Strategic SEO Solutions. Hold onto your hat as we're taking about the confusing world of link building.
Episode 129
Years and years ago you could create, or buy lots of links to your website and your ranking would go up. It was simple but very spammy. Things have changed a lot.
In this episode I'm joined by Jon Lightfoot the founder and CEO of Strategic SEO Solutions. Jon helps us understand the confusing and sometimes contentious world of back links and explains how to, and how not to build links.
You can find Jon on his website at Strategic SEO Solutions and also on LinkedIn.