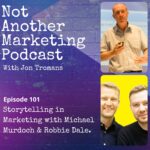 Welcome to Not Another Marketing Podcast where I'm talking to Michael Murdoch and Robbie Dale from Story Cube about storytelling.
Episode 101
Storytelling is one of those buzzwords that floats around the marketing world and you see lots of marketing guru's on Twitter telling you to do 'storytelling'. But what does this really mean?
In this episode I'm talking to Michael Murdoch and Robbie Dale the co-founders of Story Cube which they describe as a framework that helps organisations explain what they do through storytelling.
It's a fascinating chat that give you lots of ideas on how to plan your content and sales strategies. Check out the website and connect with Michael and Robbie on LinkedIn.
Can I quickly mention is that NAMP is totally ad free and I'd love it if you could give the pod a quick shout on social media and subscribe via your podcast app.