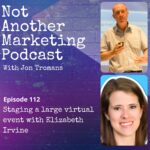 Welcome to Not Another Marketing Podcast where I'm talking to Elizabeth Irvine the VP of Marketing for MarketMuse.com. They've recently held a large virtual event called the Content Strategy Collective and Elizbeth shares the practical aspects on how she put the event together.
Episode 112
The Content Strategy Collective was a large virtual event held by Marketmuse.com that involved many speakers, guests, sponsors, pre recorded and live talks, they was a lot going on.
In this episode Elizabeth Irvine the VP of Marketing for MarketMuse talks about how the event came together, what software they used and also shares the pain points and successes. If you're planning to hold a virtual event then this is a must listen.
Make sure you check out the MarketMuse YouTube channel for some content from the event.
Can I quickly mention is that NAMP is totally ad free and I'd love it if you could give the pod a quick shout on social media and subscribe via your podcast app.