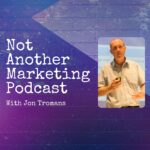 Welcome to Not Another Marketing Podcast where I'm talking to Shania Clarke, a marketing strategist with AvenueHQ who are an online marketing team for estate agents/real estate agents. We're talking about how agents can effectively use social media.
Episode 122
An estate agent or real estate agent is the type of service you only need a few times in your life. You're not going to be following a bunch of them on social media for the fun of it so you need a slightly different social media strategy than other industries.
In this episode I'm chatting to Shania Clarke a marketing strategist with AvenueHQ who offer marketing services to estate agents.
We're talking about the types of content you need, which platforms you need to be on and a lot more.
You can find Shania on the Avenue HQ website, LinkedIn, Facebook and Instagram.
Can I quickly mention is that NAMP is totally ad free and I'd love it if you could give the pod a quick shout on social media and subscribe via your podcast app.
Check out more episodes at https://www.jtid.co.uk/podcasts