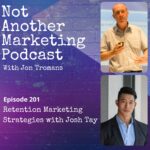 In this episode of Not Another Marketing Podcast we're digging into the world of retention marketing with Josh Tay, the General Manager at No Limit Email, a leading retention marketing agency specialising in Direct-to-Consumer E-commerce businesses.
We tackle the burning question: Does it really cost less to retain an existing customer than find a new one?
We also talk email marketing segmentation and automation and some of the mistakes Josh see's folks doing when trying to get more out of a customer.
Get ready for valuable insights, expert advice, and actionable strategies to enhance your retention marketing strategies.
Connect with Josh
Website
https://www.nolimitemail.com/
LinkedIn
https://www.linkedin.com/in/josh-tay/