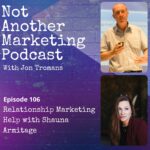 Welcome to Not Another Marketing Podcast where I'm talking to freelance marketing director & strategist Shauna Armitage. We're talking about relationship marketing, how to do it better & how to do it authentically.
Episode 106
Relationship marketing, business advocacy are powerful strategies for the digital marketer but are we always doing things the right way? Are we being authentic? Can we do better?
In this episode I'm talking to Shauna Armitage who is a freelance marketing director working with start-ups and helping them form their marketing strategies. Shauna offers huge amounts of insight and tips on how to grow your relationship marketing strategies.
You can find Shauna on her website and on Instagram.
Shauna is also the host of the Startup Renegades podcast so head over and give it a listen.
Can I quickly mention is that Not Another Marketing Podcast is totally ad free and I'd love it if you could give the pod a quick shout on social media and subscribe via your podcast app.