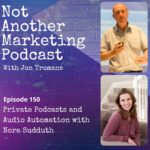 Welcome to Not Another Marketing Podcast where I'm talking to Angeley Mullins the CMO & CGO at Latana, an AI-Powered brand tracking solution so we're talking about how to measure what folks think about your brand.
Episode 150
Private podcasts are growing in popularity. We can build them for our clients, we can on-board new staff and even offer courses through audio drip campaigns. The opportunities are endless.
In this episode I'm talking to Nora Sudduth, the Co-founder of Hello Audio who specialise in private podcast feeds and audio automations.
This really is a fascinating chat full of ideas for using podcasts in many ways and there's lots of insight on how audio automation can help your business.
You can find Nora on LinkedIn and Hello Audio on their website.