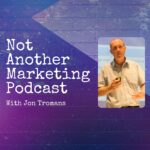 Welcome to Not Another Marketing Podcast where I'm talking to LinkedIn & personal branding coach Megan MacNeill. Stand by for lots of LinkedIn tips.
Episode 86
In the second part of the chat we're talking about ego and how to stop yourself from posting thoughts that may seem a good idea at the time but probably aren't! We also talk about video posts and how to make your profile become more inviting.
Megan offers huge amounts of insight and tips. You can find her on LinkedIn and on her website Relevant Business.
Megan also has a LinkedIn Profile Checklist available on her website.
Can I quickly mention is that Not Another Marketing Podcast is totally ad free and I'd love it if you could give the pod a quick shout on social media and subscribe via your podcast app.