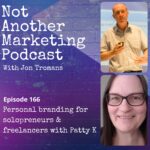 Welcome to Not Another Marketing Podcast where I'm talking to marketing consultant, speaker and author Patty K about personal branding for freelancers & solopreneurs. Stand by for lots of tips & advice.
Episode 166
Every freelancer and solopreneur needs to do some personal branding, get noticed and get clients but how should we go about it. Is oversharing on LinkedIn a good idea?
In this episode I'm chatting to Patty K who works with many solopreneurs and trusted advisors helping them grow clients and create their personal brand. This is a fascinating chat full of insight, tips, advice and common sense.
You can find Patty on LinkedIn and her website and don't forget to download a copy of her free e-book called The Trusted Advisor Marketing Machine.