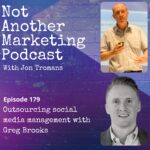 Welcome to Not Another Marketing Podcast. This week we're talking about outsourcing your social media with the Chief Growth Officer at Rocket Station, Greg Brooks. Stand by for a heap of insight.
Episode 179
It can be a big step handing over your social media channels to a freelancer or outside agency, it's the public face of your brand so how should we be going about it and what questions should we be asking.
This week I'm talking to Greg Brooks the Chief Growth Officer at Rocket Station who specialise in finding expert virtual assistants and freelancers to help grow your business.
You can find Greg on LinkedIn and Rocket Station on their website and book a call with them here.