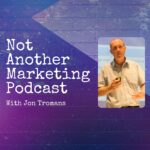 Welcome to Not Another Marketing Podcast where I'm talking to Corey Northcutt, founder of boutique SEO agency, Northcutt dot com. We're talking project management and business workflows.
Episode 95
Project Management and building workflow processes can be areas that agencies tend to skip over. A lot of information is stored in peoples heads and workflows are made up on a day to day basis. We wing it!
Joining me is Corey Northcutt CEO of SEO agency, Northcutt. It's a fascinating chat where Corey explains his agencies project management techniques, workflows and business processes and talks about a couple of tools that could help us.
Can I quickly mention is that NAMP is totally ad free and I'd love it if you could give the pod a quick shout on social media and subscribe via your podcast app.