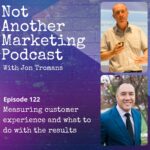 Welcome to Not Another Marketing Podcast where I'm talking to Greg Lim the Co-Founder and CEO of Persosa which help brands measure and improve customer experiences. In this episode we're talking about about customer experience, what it is, how to measure it and what to do with the results.
Episode 122
Customer experience, UX, UI and a dozen other acronyms all help to confuse us about what customer experience really is so in this episode I'm talking to Greg Lim from Persosa who helps us understand how to measure and act upon the behaviour of folks on our website. We also talk about 3rd party cookies and what to do when they are laid to rest.
You can find Greg on the Persosa website and also on Linkedin.
During the podcast Greg mentions a couple of articles, here are the links – Apple Robbed the Mobs Bank and part two of the article is here.
Can I quickly mention is that Not Another Marketing Podcast is totally ad free and I'd love it if you could give the pod a quick shout on social media and subscribe via your podcast app.