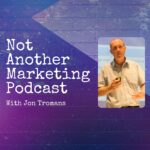 Welcome to Not Another Marketing Podcast where I'm talking to Cristina Rodriguez, Founder of Grow Pro Agency, a Digital Marketing Agency for Martial Arts Academies so we're talking about marketing to a niche.
Episode 125
Ignoring the mass market and drilling down into a niche can be a really effective targeting strategy that tends to get higher conversion rates and better results.
Cristina Rodriguez has done this for years with her martial arts marketing agency, Grow Pro. In this episode Cristina explains how niches work, how to find them and target them.
You can find Cristina on her website at Grow Pro Agency, Linkedin, Facebook and Twitter.
Can I quickly mention is that Not Another Marketing Podcast is totally ad free and I'd love it if you could give the pod a quick shout on social media and subscribe via your podcast app.