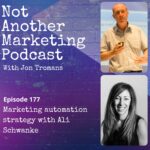 Welcome to Not Another Marketing Podcast where I'm talking to marketing and sales technology advisor and the co-host of HubSpot Hacks, Ali Schwanke. This week we're talking marketing automation strategy.
Episode 177
Marketing automation is something more companies are starting to take seriously and building automation into their strategies but is there more to it than never-ending email drip campaigns?
So this week I'm joined by the co-host of HubSpot Hacks, Ali Schwanke who's also a speaker and advisor on marketing and sales technology. We talk automation strategies, CRMs, Zapier and much more.
You can find Ali on LinkedIn and the Simple Strat website. Don't forget to check out the HubSpot Hacks YouTube channel which has had over a million views. Lots of great HubSpot advice.