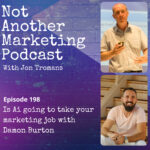 Welcome to Not Another Marketing Podcast where I'm talking to Damon Burton, founder of SEO National who help big and small clients make more from their content. This week we're talking about if Ai is going to take your content marketing job.
Episode 198
If you listen to the Ai guru's on LinkedIn then all our jobs are going to go very soon because of Ai, ChatGPT and everything else Ai. Its almost like a cult!
So this week Ai is going to be put into perspective by Damon Burton the founder of SEO National who has been featured in publications including Entrepreneur Magazine, Forbes, BuzzFeed. Damon knows his stuff.
We talk Ai content creation, ideation and if Google are ready for the massive influx of Ai generated content.
You can find Damon on his website, Twitter, LinkedIn, Facebook, Instagram and YouTube and don't forget to checkout his free SEO book.