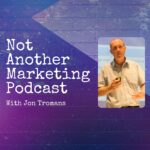 Welcome to Not Another Marketing Podcast where I'm talking about Internal Marketing with Christopher Wallace, the Co-Founder and President of InnerView.
Episode 82
Internal Marketing is usually thought as something only big companies do. Can SMEs and smaller businesses use some of the tactics to help provide a better customer experience?
In this episode I'm talking to Chris Wallace from marketing consultancy firm InnerView.
Chris draws from over 20 years of sales & marketing experience and explains some of the techniques involved in marketing to staff, why you should do it and he offers a couple of great examples near the end of the pod.
You can find Chris at innerviewgroup.com and on LinkedIn.
Can I quickly mention is that NAMP is totally ad free and I'd love it if you could give the pod a quick shout on social media and subscribe via your podcast app.