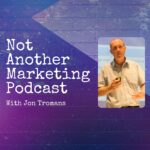 Welcome to Not Another Marketing Podcast where I'm talking content marketing with Paxton Gray.
Episode 74
Content marketing is something every marketer does. It's the web pages we create and the landing pages we build but do we focus enough time on what the customer wants rather than what we want from the customer?
In this episode of Not Another Marketing Podcast I'm talking to Paxton Gray, Executive Vice President of digital market agency 97th floor.
We talk all things content and Paxton offers lots of tips and advice on how to driver better results.
During the episode Paxton mentions his keyword research webinar which you can watch here and a free advanced keyword template that you can get from here. Feel free to connect with Paxton on LinkedIn.
Can I quickly mention that NAMP is totally ad free and I'd love it if you could help me keep it that way buy giving the pod a quick shout on social media and subscribing via your podcast app.
There's also a companion newsletter to go with the podcast called Not Another Marketing Newsletter… it's once a month & crammed full of news, podcasts & interviews.
Sign up for Not Another Marketing Newsletter here and I promise no dodgy upsells!