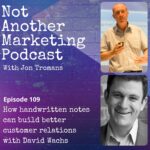 Welcome to Not Another Marketing Podcast where I'm talking to David Wachs the founder of Handwrytten which is bringing back the lost art of letter writing. Could this be a part of your next marketing campaign?
Episode 109
This is a brilliant chat about how handwritten notes can help build better customer relations and even increase leads and sales.
David has founded Handwytten which uses a bunch of robots to write notes with real pens in authentic handwriting styles. David explains how it all works in the podcast.
Make sure you check out the Handwrytten website and don't forget to connect with David on LinkedIn .
Can I quickly mention is that NAMP is totally ad free and I'd love it if you could give the pod a quick shout on social media and subscribe via your podcast app.