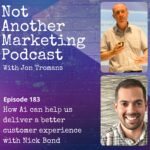 Welcome to Not Another Marketing Podcast where I'm talking to Nick Bond the Founding Partner and Head of Product at Apex, an AI-driven solution that measures customer experience so this week we're talking how Ai is helping us deliver a better customer experience.
Episode 183
Everyone hates customer service chat bots and to be fair I don't think they're very intelligent but Ai is playing an interesting role in crunching data behind the scenes giving under better indicators on how our customers feel about us.
One of the companies in this field is Apex so this week I'm chatting with Nick Bond the Founding Partner and Head of Product. They use Ai to create an Apex Score so folks can identify how aligned a brand is with the desires of their customer and translates them into business and marketing strategies.
You can find Nick on LinkedIn and also on the Apex website.
During the podcast Nick mentions his CX Self Assessment tool which takes less than 2 minutes to complete. You can check it out here.