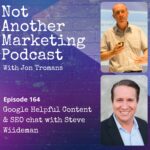 Welcome to Not Another Marketing Podcast where I'm talking to SEO consultant Steve Wiideman so this week we're talking about the recent Google Helpful Content update.
Episode 164
Google have announced another search update. This one is called the Helpful Content Update but what is helpful content in the eyes of Google?
This week I'm chatting with SEO consultant Steve Wiideman who has worked with the likes of Disney, Honda, Belkin and many others.
Steve helps us understand what helpful content is and how we can improve our pages.
There's also a whole bunch of other SEO and Google chat.
During the pod Steve mentions a free download for a Page Level Content Audit and you can find it here.
You can find Steve on his website and Twitter, LinkedIn, Facebook and Instagram.