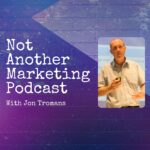 Welcome to Not Another Marketing Podcast where I'm talking to Igor Fedenkoff, founder of Brybe.com an online Influencer marketplace. We're talking influencers, how to find a good one and a few things to watch out for.
Episode 124
Influencer marketing is huge and we're not just talking about celebs and YouTubers. There are tens of thousands of nano, micro and medium influencers scattered all over the world and many brands are seeing huge benefits working with them.
In this episode I'm chatting to Igor Fedenkoff, the founder of Brybe.com an online Influencer marketplace. He offers up huge amounts of advice on how to find and work with influencers plus we chat about some of the things you need to watch out for and if more government regulation is on the way.
During the podcast Igor mentions the Grin creator management platform and the HypeAuditor analytics software .
You can find Igor on his website, Brybe.com and also LinkedIn and Facebook.
Can I quickly mention is that Not Another Marketing Podcast is totally ad free and I'd love it if you could give the pod a quick shout on social media and subscribe via your podcast app.