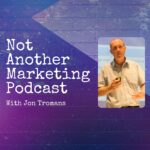 In episode 68 of Not Another Marketing Podcast I talk to Nikki Hesford about what to do with our Facebook ads if we are shut right now.
Episode 68
At the moment there's a good chance that your business is closed or people just don't want what you sell right now so what do we do with our Facebook ad campaigns?
I spoke to Nikki Hesford about reducing ad budgets, changing messages and trying to generate interest and engagement in what we do so we can retarget people when things reopen.
There's lots of tips for what we can be doing right now but also ideas on how to start pushing forward again once things get back to normal.
You can find Nikki on twitter, on Facebook HesfordMedia and on the web at hesfordmedia.co.uk.
If you've enjoyed this episode then please help me keep it ad free by subscribing on your favourite podcast player or giving the podcast a quick share on social media… if you can afford it I'd really appreciate if you could 'Buy Me A Coffee' to help keep the lights on and keep the podcast ad free.