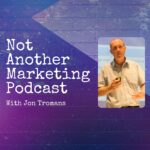 Welcome to Not Another Marketing Podcast where I'm talking to Dr Rory Stern, a Clinical Psychologist and founder of paid ad agency RFS Digital Media. If you run your own Facebook ads or employ an agency to do it for you then this podcast is for you.
Episode 89
This podcast holds so much information about Facebook ads and compliance that you'll probably want to listen to it twice.
Rory shares a huge amount of advice and best practice tips to help you understand Facebook advertising, especially around the topic of compliance. If you've had ads disapproved or access to the ad manager blocked, then listen up to this episode.
You can find Rory at rfsdigitalmedia.com and helpwithads.com.
Can I quickly mention is that Not Another Marketing Podcast is totally ad free and I'd love it if you could give the pod a quick shout on social media and subscribe via your podcast app.