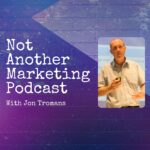 Welcome to Not Another Marketing Podcast where I'm talking to Darshan Mehta the founder of iResearch.com a platform that allows you to quickly hold online focus groups so we're talking about how to get insights and feedback from clients.
Episode 131
Focus groups have been around forever. I remember the days of yes/no buttons and folks losing the will to live once they hit the button for the 100th time! Nowadays its a lot easier to extract feedback from your clients.
In this episode I'm joined by Darshan Mehta the founder of iResearch.com so stand by for lots of tips and advice on how to run focus groups, pick people for the group and persuade them to take part.
You can find Darshan at iResearch.com and also make sure you check out his book called "Getting to Aha!: Why Today's Insights Are Tomorrow's Facts".
Can I quickly mention is that NAMP is totally ad free and I'd love it if you could give the pod a quick shout on social media and subscribe via your podcast app.