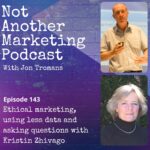 Welcome to Not Another Marketing Podcast where I'm talking to Kristin Zhivago, founder of Zhivago Partners, a digital marketing management agency. We're talking about how to market a little more ethically and ask more questions.
Episode 143
Should we be tracking all our customers to the Nth degree, finding out every little detail about them or should we be a bit more ethical in our approach?
In this episode I'm chatting with Kristin Zhivago, founder of Zhivago Partners and author of Roadmap to Revenue: How to Sell the Way Your Customers Want to Buy. Kristin explains how we can be a little more ethical with our marketing efforts and how asking the right questions can get us better answers.
You can find Kristin on the Zhivago Partners website and on LinkedIn.