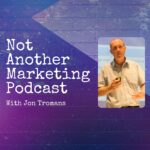 Welcome to episode 52 of the SEO & Social Media Tips Podcast. This week we chat to Corey Northcutt from inbound marketing experts
Northcutt.com
.
Corey has written for the likes of Moz, Search Engine Journal & HubSpot and has put together an amazing list of Google ranking factors marking them as myths, probably's and definitely's. A great read for anyone interested in SEO.
We'll hear Corey's thoughts on modern SEO, link building and discover a few techniques to help the search visibility of Ecommerce stores.
During the podcast Corey mentions the Blind Five Year Old blog.
You can contact Corey on Twitter or through his website.
If you've enjoyed this podcast you can subscribe on iTunes, Stitcher or TuneIn and if you've got a moment I'd love a quick review.
Ask questions or catch up with me on Twitter or Facebook.
Thanks for listening.