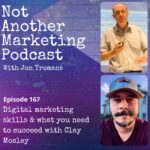 Welcome to Not Another Marketing Podcast where I'm talking to marketing consultant, speaker and author Patty K about personal branding for freelancers & solopreneurs. Stand by for lots of tips & advice.
Episode 167
The digital marketers skillset changes so quickly. Who needs a Google+ consultant anymore? But what skills are most important and is creativity a skill in itself?
In this episode I'm chatting with Clay Mosley the CEO of Dripify, an online marketing training and coaching platform. Clay offers up a huge amount of insight and advice on the digital marketing skills world.
You can find Clay on the Dripify website and Twitter and make sure you check out his Facebook group that's full of marketing tactics.